Good morning, PCV community,
Labor Day marks six months since the COVID pandemic began and it's estimated over 100,000 small businesses have closed forever, and close to one million more are at risk across the country. In California, tens of thousands of small businesses have already gone under, and a study from UC Santa Cruz has found that 40% of Black-owned businesses may not survive Coronavirus. Small businesses are the backbone of our country and the culture keepers of our communities. Now more than ever, small business owners need access to fair and affordable capital. They also need free, nationwide access to expert advice to pivot their business, try new things, and reopen safely for their customers and workers.
Pacific Community Ventures is excited to announce that at the 6-month mark of the COVID-fueled economic crisis, we are launching a Small Business Support Circle to close the advice gap for entrepreneurs of color and to show our increased support for those still struggling to stay in business and thrive again. The Small Business Support Circle brings together companies and organizations invested in the success and resilience of small businesses across the United States, and is dedicated to helping more small businesses owned by people of color, immigrants, and Native Americans survive, keep wealth in the community, and stave off another massive generational setback.
The growing list of companies and organizations who have joined to help us launch the Small Business Support Circle is led by Kaiser Permanente. It includes ICIC, eBay, DoorDash, Union Bank, EBALDC, Wells Fargo, Bank of America, and Comcast NBC Universal. We're also excited to partner with Black-led organizations that serve business owners of color, like 1863 Ventures, The Wisdom Fund, HOPE Credit Union, LISC, the Western Regional Minority Supplier Diversity Council, and others to bring this pro bono service to small business owners nationwide.​
Members of the PCV Small Business Support Circle are getting millions of dollars of free advice into the hands of job-creating small business owners by leveraging and scaling the unique

BusinessAdvising.org pro bono advising platform to provide small businesses the support they need to survive and thrive, empowering workers, and the communities they serve nationwide.
Companies and organizations interested in learning more or joining the Small Business Support Circle are invited to join our virtual launch event on September 17 (RSVP here!) or by contacting Natalia Carrasco, Director, PCV Business Advising.
Our virtual launch event on September 17 will include live music, a panel discussion on the role of mentorship in advancing inclusive entrepreneurship, small business owners, and a tour of the newly opened location of Cupcakin' Bake Shop on Shattuck & Virginia Ave in Berkeley. Lila Owens launched Cupcakin' Bake Shop in her Berkeley, California home in 2007, and instantly became a sensation. Cupcakin' began to grow and Lila relocated to a nearby brick-and-mortar storefront. We met Lila in 2016 when she came to Pacific Community Ventures for support with scaling her operations efficiently to manage this growth, and to

prepare the business for the future. Part of Lila's plans included opening several locations — and she knew she would need defined processes that she could replicate at each new location.
We've paired her with multiple advisors who have helped her with operations and strategy as she expanded from one to two locations, and planned for more. She also qualified for a $200,000 business loan as part of PCV's "Good Jobs, Good Business" program, and from there increased revenue by 99%, with 57% job growth. Her business was on a roll, and then the pandemic hit. Lila saw a dramatic drop in walk-in orders, and requests for catering and event refunds skyrocketed.
Creating good-quality jobs has been built into the fabric of her company from the

start, and the fact that her team feels like a family was an unbelievable strength and something that's made her business more resilient. With help from her PCV advisors and her network, Lila and her team not only kept the business afloat, but by making smart pivots and coming together as a team Cupcakin' Bake Shop is still going strong and has even created two new jobs.
Be safe, be well, and please join us!
Bulbul Gupta

President & CEO, Pacific Community Ventures
---
The California Rebuilding Fund
The Governor's Office of Business and Economic Development (GO-Biz) announced last week the California Rebuilding Fund, a new public-private partnership of which Pacific Community Ventures is a founding member, that will leverage government backed capital to support California's small businesses – especially the smallest under-invested firms and entrepreneurs from communities that have been historically disenfranchised.
The initiative was approved during the California Infrastructure and Economic Development Bank's (IBank) August board meeting. Prior to the approval, the State of California allocated $25 million and new statutory authority to IBank to enable a collaboration with the state's private sector. This partnership will in turn drive capital to Community Development Financial Institutions (CDFIs) and other mission-based lenders to provide much-needed affordable loans to California's underbanked small businesses. With the support of this new IBank funding, California's CDFIs can increase their capacity to help small businesses recover and reposition themselves to survive the realities of the COVID-19 marketplace.
Our President & CEO, Bulbul Gupta, spoke at that board meeting about our work as a mission-driven nonprofit CDFI lender based in Oakland that works with the hardest to reach small business owners statewide. The small businesses we invest in are asking most for affordable capital and advising support, most cannot survive much longer without this help, much less hang onto jobs they've created.
Business owners like Javier Sandes (pictured above), of Javi's Cooking in Oakland who grew his empanada empire from a food truck to his first location in 2018 after getting turned down from bank lending, and being referred to PCV for our patient capital. He ended 2019 with 8 jobs; and is currently down to 4 employees. His goal for the remainder of 2020 is to safely stay open and rebuild, knowing that his bars and stadium clients will not be re-opening soon, and catering businesses are struggling with few events and tech offices all working from home.
This Fund is essential to ensuring that small businesses like Javi's in our community have access to the capital they need to survive this pandemic right now, before even more go under, losing even more jobs in the State. Thank you for your support IBank, the Governor's Office, and GoBiz! The California Small Enterprise Task Force includes Kiva, Opportunity Fund, Accion, Calvert Impact Capital, Main Street Launch, MEDA, CDC Small Business Finance, Pace Finance Corporation, Pace Finance Corp, and Working Solutions.
This has been one of the most collaborative, innovative responses we've seen through this crisis to respond to the needs we're seeing, and we look forward to leveraging this $25M anchor support to bring in more investors, foundations, and philanthropy to raise the blended capital that CDFIs and our small business owners truly need to get through this crisis, preserve jobs, and shape a more resilient recovery ahead.
---
PCV's Loan Program Is Open and Improved
We're happy to announce that after reviewing our backlog of applications caused by a 9000% increase in demand for PCV lending through this crisis, PCV is relaunching our loan application with a more streamlined procedure, better aligned with the California IBank Disaster Loan program, with fewer asks of business owners, and faster speed to capital.
We're a mission-driven lender that provides fair and affordable loans from $10,000 — $200,000 to California small businesses with at least one part- or full-time employee. In order to serve

more small businesses across California that have been impacted by COVID-19 and the resulting economic fallout, PCV is also currently participating in the California IBank Disaster Loan program. Our economic disaster loans offer a competitive rate of 4.25% with flexible terms to qualifying businesses for economic disaster loans at $50,000 and below. In addition, PCV offers micro-grants for businesses able to work with our advisors to preserve jobs through this crisis, and make improvements in the quality of the jobs they offer to prioritize employee health alongside business health.
All applications will be considered for the loan program that best fits their business needs, both the Disaster Loan program and our standard loan program.
Does your small business need funds to increase inventory, expand or update your space, make health and safety improvements, scale up for a new opportunity, purchase equipment, or add new jobs? Pacific Community Ventures can help. Our loans help small business owners like you thrive, be successful, and create jobs in our communities. We're here to help small business owners build back better from the COVID-19 pandemic, including the capital and advice needed to pivot or reopen safely and sustainably.
Blueprints To Build Back With A Good Jobs Economy
PCV has been working with our partners, advisors, and networks to continue advancing our "Good Jobs, Good Business" model of affordable capital paired with free advising, tools and incentives to create good jobs, and social impact evaluation that serves as an essential blueprint to rebuilding better. We've also been helping funders and policymakers understand what PCV and the CDFIS and community investors like us need from them, in order to do that work.
Today in NextBillion, we published a piece from PCV CEO, Bulbul Gupta, and one of our advisory council members, Sachi Shenoy (Co-Founder and Chief Impact Officer, Upaya Social Ventures), on a new status quo for workers: shaping a good jobs recovery from COVID-19. At the six-month mark of the COVID-19 crisis, and as we in the U.S. mark Labor Day, we ask, "What does it mean to 'recover' when the pre-COVID economy was built on low-paying jobs, systemic racial and economic injustice, 40 years of flat wages, and decades of declining small business formation? When

fewer people have living wages and employer-subsidized health insurance? When millions of people have jobs that provide little or no benefits, though they need them more than ever? What would it look like if Labor Day really honored the essential and frontline workers without whom we wouldn't have food, home deliveries and restaurants, and who happen to be disproportionately Black and Brown?" The answers to these questions have resonance not only in the U.S., but in emerging markets around the world.
This past week in ImpactAlpha, we published a piece from PCV advisory council member Jed Emerson and our CEO Bulbul Gupta on how

investors can blend finance for CDFIs to advance economic and racial justice. In order to provide creative and flexible support to our clients in crisis, especially historically underinvested people and places, communities of color, and indigenous communities, CDFIs need investors to leverage the full potential of their portfolios. We know impact investors can generate competitive financial returns—the question remains whether they can generate compelling and sustained community and systemic impacts. The bar we must clear is that of economic and racial liberation of communities and entrepreneurs—reparative capital—as opposed to capital as simply finance.
When we consider how investors can have a positive impact on people and the planet, we often just think about the companies and people they finance. Often

overlooked are the societal effects of the investors' governance, compensation structure, and business model. For the impact investing industry to effectively manage both positive and negative impact, we need to do more to evaluate our own business practices as well as those funds we invest in, or else we may be unintentionally contributing to the problems — like wealth and income inequality — we seek to solve. The Predistribution Initiative (PDI), a multi-stakeholder project focused on improving investment structures to share more economic output with workers and communities, is leading efforts to raise awareness about these issues.
Read their latest article, entitled a more thoughtful private equity model.
---
Latinx Heritage Month
September 15 marks the start of Latinx Heritage Month! Here at PCV we're celebrating it by recognizing that the Latinx community is the face of entrepreneurship. Despite the opportunity gap between Latinos and other Americans, Latinos have become the fastest-growing group of small business owners across the U.S. Over the past 10 years, the number of Latino business owners grew 34%, compared to 1% for all business owners in the United States, and Latinx entrepreneurs employ over 3 million people.
To shop with PCV's Latinx clients, you can check out this growing list of over 150 Latinx-owned small businesses across the country.
We're also recognizing the need for CDFIs and other community lenders like us to advocate for the needs of Latinx small business owners, and center them in our work. According to Biz2Credit the average credit score — before COVID — for Latinx business owners was 588, below the 600 used as a minimum by the SBA and most major banks. This fact alone is holding back our entire economy and stymying a generation of job-creating business owners. Additionally, PCV has been working hard to increase its supply of Spanish-language advisors to work directly with more Latinx small business owners nationwide needing pro bono advising help more than ever – please reach out if you need help, or if you're interested in becoming an advisor with us!
---
Volunteer 5 Hours To Help Small Businesses Rebuild Better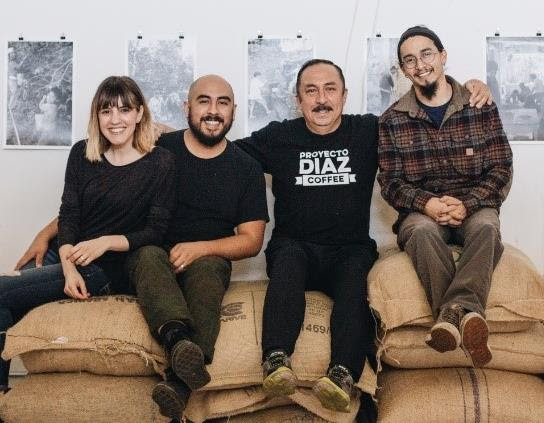 Small businesses have been hit hard by the COVID-19 pandemic, and small businesses owned by people of color, immigrants, and Native Americans are bearing the brunt of it. Since March, demand for our pro bono advisors has surged more than 400% year-over-year.
If you have expertise in finance, HR, operations, marketing, and other areas that small business owners are suddenly facing challenges in, your skills are especially needed now.
Pacific Community Ventures is working to close what's called "the advice gap." Many female entrepreneurs, entrepreneurs of color, and Indigenous and immigrant business entrepreneurs say they lack access to advisors and networks that could help their businesses thrive. This puts these job-creating entrepreneurs at a disadvantage.
PCV's BusinessAdvising.org platform enables people with business experience to volunteer 100% remotely – you can volunteer on the phone, over Facetime and video chat, or even on email. If you (or even your whole company) is interested in finding ways to support small businesses across the U.S. with free advising and business coaching in these difficult months, contact us today.
You might be thinking, "Who has time to volunteer?" But the truth is, it only takes less than 5 hours a month to make a big difference in someone else's life — and it all works around your schedule. . Don't worry if you've never worked for or run your own small business. Our team will match you with the right small business based on your unique experience and skillset.
---
Upcoming Webinars
Thank you to everyone who joined us throughout August for our Summer of Financial Empowerment webinar series. As we turn the corner into fall, PCV is hosting a new slate of free webinars on a range of topics.
If you're an advisor interested in hosting an AMA session with us, if you're an entrepreneur who'd like to recommend a future topic, or if you have any questions on this webinar series, please contact Morgan here.